self drive rwanda
Rwanda Self Drive Car Hire in Rwanda is a trend of Flexible individual travel in the Country of a thousand hills. Rwanda is not just the ideal destination for self-drive safaris but Self-drive car rental is also a magical cost-effective idea in discovering this incredibly fascinating Rwanda at your own pace.
Driving in Rwanda is on the right and Rwanda Self Drive Car Hire safaris are absolutely possible in Kigali towns and upcountry.  Most of the roads in urban areas are well paved with road signs to direct you. The maximum speed is 80km/hr while the minimum is 50km/hr. If you maintain an average 50km/hr on the bumpy roads and 40km/hr in the national game reserves, count the first step of your self drive car hire trip as a success.
Rwanda Car Hire
Rwanda Self Drive Car Hire brings to you the Toyota Rav4's and the Prado land cruisers (sx, tx, and tz) among our fleet as the best, value safari cars that we offer for self-drive 4×4 car hire. All the cars are comprehensively insured and come with first aid kit box, Uganda road map, and Bradt guide book to enhance your self-drive safari.
---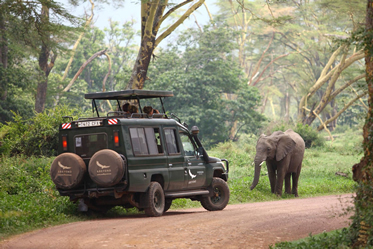 Our 4×4 Toyota Prado Land cruisers (Sx and Tx) are very sturdy and reliable cars. They have a powerful Diesel engine and a high ground clearance. The diesel is readily available in Uganda and these land cruisers are un-matched for navigating the inescapable rough terrain of all but our national roads and are compared directly to almost none as far as maneuvering rough terrains. These land cruisers can fit 4 persons to max with enough luggage space. This stands best for family vacation safaris, the Kidepo National park and the surrounding.
The [RAV] Recreational Active Vehicle 4WD crossover SUV is an easy and economical vehicle that can handle all Rwandan terrain throughout the year. It is a full time 4WD which makes it convenient given the mountainous terrain.
The fuel/Mileage consumption is low compared to other vehicles given a 60litre tank takes you between 650kms – 700kms, though the consumption depends on the terrain and nature of driving.
Our Rav4's are of two types, We offer a smaller 2 door Toyota RAV4 with enough luggage space that is suitable for 2 people on a self drive adventure. We also have a 4-door RAV suitable for 4-people on a self drive safari in Uganda and around east Africa.